Where is Leo ?
We always miss him !!!!
Read here about Leo spottings all over the world - and don´t believe everything which is written in black & white !
September 18, 2001
After all these horrible events - read how celebrities have contributed their part to help the victims at NY Daily News from September 16, 2001. Daniel Day-Lewis, Leo´s co-star in GONY, was in New York and helped. We got news from Badados - a Gisele fan site - that Gisele had been in New York on 9-11-01 because she has an appartement in Lower Manhattan; she was evacuated with thousands of other people and spent the night in the house of a friend - and she´s well and sane. Leo seemed not to be with her that day, but now I´m glad that I get the news that he was seen in Los Angeles. Leonardo attended a memorial service in Bel Air Presbetyrian in L.A., reports a Newsletter from Entertainment Tonight from September 16. - God bless him !
°°°
September 3rd, 2001
Leonardo had an appearance in the Japanese TV on August 24 on the occasion of the release of the Ttanic DVD in Japan, where he talks about his new movie and promises to his fans to come to the Japanese GONY premiere.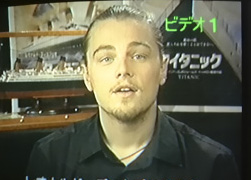 You´ll find a video clip of his appearance at Leo Supporters of Japan.
Many thanks to Sakura !
°°°
News of the World - September 2nd, 2001
Leo and Gisele.....the hoppy couple It never sprains but it pours...First, Hollywood heart-throb Leonardo DiCaprio hurts his leg - now his supermodel girlfriend has done the same. Gisele Bundchen's foot was strapped up after she injured it in a fall. But the 21-year-old Brazilian didn't let it stop her from enjoying her weekly horse-riding session in Hollywood. Meanwhile, 26-year-old Titanic star Leo still has a cast on his leg following a basketball accident six weeks ago. Gisele was recently rumoured to be seeing Brazilian soap actor Rodrigo Santoro. But it wasn't true and now she and Leo - who has just finished filming "Gangs of New York" - are spending all their time together. The pair are now said to be planning a wedding...although he's in no fit state to get down on one knee just yet.
Thanks to Jessi !
°°°
Star Magazine (UK) - August 30, 2001
There is a photo of Leo on which he still wears a brace for his knee, which seems to be quite new.
Get well soon, Leonardo !
°°°
Splash News com - ~ August 15, 2001:
Leo and Gisele have been spotted shopping together, Gisele with her brandnew Mercedes and Leo without crutches but a small knee bandage.
Thanks to Pax for the photo !
°°°
Good News ! :))
abstracts.net - August 11, 2001
US Weekly reports Leo was spotted off his crutches now and playing a game of basketball with Tobey Maguire.
°
ET Newsletter - August 2, 2001
Leonardo has been spotted at a party bash thrown by Nike in Hollywood, where George W. Bush´s two daughters "mingled and chatted with many young Hollywoodstars including Leonardo DiCaprio who had a slight limp from a recently sprained knee."
°°°
People Magazine - July 20, 2001
Gisele´s Birthday Gift
Keen on treating herself to a gift for her 21st birthday on July 20, Gisele Bündchen strolled into the Beverly Hills Ltd. Mercedes-Benz dealership and splurged on an $80,000 CLK Cabriolet convertible, complete with leather interior. The übermodel's guy, Leonardo DiCaprio, tagged along and gave a thumbs-up to her color choice: cool steel gray inside and out...
°°°
Imdb People News - July 16, 2001
Leo´s Basketball Sprain
Leonardo DiCaprio's mystery leg sprain came from the basketball court. The 26-year-old movie star was spotted hobbling around on crutches, his right leg in plaster, earlier last week but his publicists refused to comment on his injury. One pal admits he picked up the injury after a bad fall during a game of basketball in Santa Monica, California. The pal says, "He was writhing in pain, holding his leg. He thought his leg might be broken." Leo's fellow players teamed up to carry him off the court and then took him to the hospital.
°°°
Hello (UK) - June 12, 2001
Leonardo & Gisele spotted out househunting in Malibu for a dream home
Despite the fact that Gisele and Leonardo have been keeping the public guessing as to if and when they´ll tie the knot, they have been spotted out and about in Malibu, looking for a home together. Favourite of the moment is rumoured to be a 3-Million-Pound mansion set in the hills overlooking the Pacific Ocean.
Househunting is thirsty and hungry work, and the trio needed to stop off at a hotdog stand to pick up chips and shakes before heading home to mull over the day´s viewing.
°°°
May 2001:
Since Leo has returned from Rome to his home in sunny California, you can spot him almost regurlarly at the NBA finals. On May 27 he was again at the Staples center to cheer on "his" Lakers - not alone, but with his girl.
See the Recent Photos page 18 !
°°°
Read the old stories here :
Leo & Gisele (2001)- Wedding Rumours (Rome) - Is Leo engaged ? - Gisele talks on her new love (Summer 2000)