The Engagement Rumour


Whatever is true, I hope Leo is happy with his work, his girl, his dreams, with everything !
anlimara



Daily Star 14-10-2000
Daily Star: Leo Pops Question
By Peter Dyke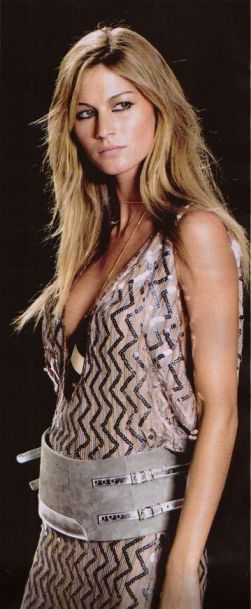 Gisele on her Fashion Show in Milano - Thursday, Oct.12, 2000
DiCaprio: He's a Gisele of a lucky guy
Heart throb Leonardo Di Caprio has proposed to stunning girlfriend Gisele Bundchen - because he feared losing her.
The Hollywood star popped the question on one knee - and with a £125,000 diamond and platinum ring.
And the 20-year-old Brazilian supermodel burst into tears of joy as she said yes.
The pair have told only closest pals about the engagement and sworn them to secrecy.
Leo, 25, repeated his famous phrase from the film Titanic when he told friends: "I'm the king of the world. Gisele's the sexiest woman I've ever met and I'm madly in love with her."
Gisele, who commands up to £250,000 a day, gushed to pals: "I can't believe I'm engaged. Leo makes me so happy." The pair, who started seeing each other in spring this year, have had a stormy affair.
Leo - whose previous conquests include models Kate Moss and Kristen Zang - was terrified at the idea of losing her.
He said: "I don't know what I'd do if that happened. She's my everything."
Earlier this year they were seen house-hunting in New York.
But in July the catwalk star dumped him to return to billionaire ex-lover Joao-Paulo Diniz, 26, claiming she was sick of Leo's tantrums. But within weeks they were back together.
Leo popped the question in Milan.
Gisele was there for the city's fashion week and he was in Rome working on a film with director Martin Scorsese.
He dashed to Gisele's hotel suite, filled it flowers and ordered a £300 bottle of champagne.
When she returned, Leo got down on one knee and asked her to be his wife.
Back at the fashion show, she flashed her six-carat engagement sparkler to fellow catwalk stars.
One fashion insider said: "It's a lovely ring. A lot of the girls are envious that she's hooked Leo but they're very happy for her. They make a great couple."
*
NY Daily News - Oct 17, 2000
Leonardo DiCaprio may be planning a Roman wedding to girlfriend Gisele Bundchen.
Are Leonardo DiCaprio and Gisele Bundchen planning a Roman wedding? Fashionistas say the Brazilian supermodel has been trying on wedding dresses designed by Laura Biagiotti — and not just for a magazine shoot. DiCaprio, who's in Rome filming Martin Scorsese's "Gangs of New York," is said to have approached the American consulate there about documents needed for a wedding.
Leo and Gisele have supposedly asked family members to join them in the Eternal City in November. The relatives are bound to have a jolly time considering that Leo and Gisele both have German ancestry. But it won't be a wedding, according to DiCaprio's rep, who insists: "They're not engaged!"
*
From Babados - October 14, 2000 (Translation) :
"ENGAGEMENT WITH DICAPRIO DOESN'T EXIST" GISELE BUNDCHEN SAYS.
The Brazilian supermodel Gisele Bundchen guarantees that she is not Titanic actor Leonardo DiCaprio's fiancee. Through her press spokesperson, Gisele said that the story published by the British newspaper Daily Star is the "worse balloon (??)" that was ever written about the two. The report gave details of a party during which the actor presented the beautiful woman with an engagement ring worth U.S. $125,000. "An engagement with DiCaprio doesn't exist, nor a ring. All those quotes in the story were invented. If anyone is interested, I am only 20 years old and I neither intend to marry or get engaged so early", Gisele said through her press advisor. About a supposed courtship with the actor, the model wouldn't discuss. Through the spokesman she said she didn't want to make public details of her personal life. In the newspaper story, the model supposedly said that she couldn't believe that she was engaged and that Leo made her very happy during the supposed party.
Thanks to Pax !
*
From Terra Exclusivo - October 14, 2000 (Translation) :
Friend is suspicious about engagement of Gisele with DiCaprio. Saturday, October 14, 2000. The advisor and friend of the model Gisele Bundchen, Monica Monteiro, was surprised by the news of the engagement of the top Brazilian model with the North American actor Leonardo DiCaprio. "I find it impossible that she would have become engaged and not to have informed me," she affirmed. "Besides, to get maried at 20 years is not in Gisele's plans," she said. Monica, however, didn't discard the possibility that DiCaprio had given a valuable jewel to Gisele. "Everyone knows he is crazy about her," she commented.Gisele traveled today to New York, after the closing of the Parisian fashion shows of ready-to-wear for Spring 2001.
Dinner & nightclub: The romance between Gisele and DiCaprio began in April, during a dinner at the Brazilian restaurant Casa, in the West Village in New York. Days later the couple appeared, holding hands, at the opening of Las Palmas Restaurant in Los Angeles. The star of Titanic tried to meet the Brazilian for two years, sending notes and bouquets to the model's dressing room. The actor's friends also helped, giving DiCaprio's messages to Gisele who, at the beginning, avoided the actor's approaches and made it clear her contempt for certain attitudes of Leonardo. She has been on the covers of all the principal fashion magazines on the planet, and was chosen by Rolling Stone Magazine September edition as the most beautiful woman in the world.
*
MSNBC - October 17, 2000
Good news for heartbroken Leonardo DiCaprio fans. A spokesman for the teen heartthrob denies British reports that the "Titanic" star got engaged to longtime girlfriend, Brazilian model Gisele Bundchen. "The star got down on one knee with a 125,000 [pound, about $182,000] platinum and diamond ring to pop the question to Brazilian beauty Gisele Bundchen," according to one report, in London's Sunday Mail. "Leo told pals that he wanted to make the occasion special. He filled her hotel suite with flowers and ordered a 300 [pound, about $438] bottle of champagne." - "Not true," says DiCaprio's spokesman. "Leo's not engaged."
Gisele and Leo have certainly been enjoying each other's company. DiCaprio is in Italy, filming "Gangs of New York," and has been out partying into the wee hours and showing up late so often that Martin Scorsese reportedly chewed him out in front of the cast and crew.
Thanks to DiCaprio69
*
Roger Friedmann's Fox 411 - 20.10.00
Leo Engaged? Yelled At by Director? Misbehaving on Set?
The rumors: Leonardo DiCaprio is engaged to marry model Gisele Bundchen. He was also recently yelled at on-set by director Martin Scorsese on the Italian stage of Gangs of New York. He's either too fat or too thin and is horsing around during working hours.
The reality: All I know is that Scorsese is not the sort of director who invites confrontations. A couple of years ago, before filming Bringing out the Dead, he had to ask screenwriter Paul Schrader to tell Nicolas Cage to keep his performance restrained and not over the top. Scorsese literally took them both to a meal, stood up and said, "Paul has something to tell you." And left. So I doubt he yelled at Leo in public, if at all.
A source close to Leo, one of his defenders, says since all the shooting has been at night, it's unlikely Leo's been cavorting off-set, or in Rome, during the wee hours. As for his engagement, and the rumor that Bundchen had a wedding gown fitted, please, someone: Who gets married in the middle of a grueling international shoot? If Leonardo DiCaprio ever gets married, it will be at Moomba, at midnight, with his pals Vincent LaResca, Jay Ferguson and Tobey Maguire as lads-in-waiting.
One thing Leo could do while he's in Europe: catch a showing of Don's Plum, the movie he and Tobey made for pal director R. D. Robb, then sued to make sure it's never shown in the U.S. The international roll-out is underway.
Thanks to Gabi
*
Abstracts net - Oct. 21, 2000
Gisele commented on Access Hollywood regarding rumours her and Leo were getting married by saying: "... I think they (the press) are crazy..., that"s crazy... I think they"re crazy!"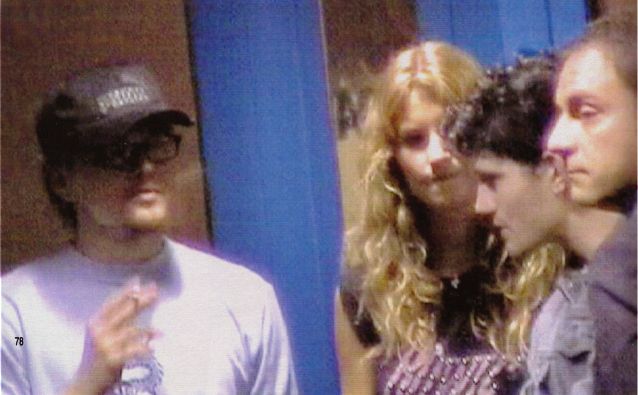 Leo & Gisele in Milano on Thursday, Oct. 12, 2000
***