The Lovebirds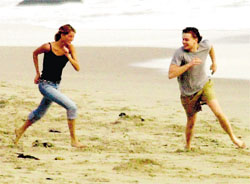 More Stories about Leo & Gisele
Caras Magazine article - posted May 18, 2001
Leo in Brazil
"Leonardo Dicaprio is really in love for Gisele Bundchen. A proof of that is that, in the last week he went to São Paulo to take the girlfriend and following a particular jet to Porto Seguro,Bahia.
What he didn't expect is also to enchant for the natural beauties of Itaporoca Beach, near to Trancoso, where the number 1 top in the world intends to construct a house.
The couple was housed in the mansion of Nizan Guanaes and got a tranquil Honey moon. In the saturday, 12 in the morning while the top was resting, the actor took a walk of boat and shows an hability as fisher, taking a fish that, prepared by "bahian way", was the dinner of the day.
He also faced a walk for the tracks that sorround the property. Gisele and Leo left the Porto Seguro airpoirt at sunday (midafternoon). The actor commented: he will repeat the adventure bringing more famous from Los Angeles to the beach the he consideres wonderful."
I tried the best translation...sorry for some mistake. - Juli 23
Thank you so much Juli !
°°°
Babado Com - Brazil - May 12, 2001
Leonardo is in Brazil with Gisele Bündchen
The star Leonardo Di Caprio is in Brazil. According to the site Glamurama, since last Wednesday, 9, he is in Trancoso tanning some fast vacations with the girlfriend, Gisele Bündchen. And nor it was necessary outline of safety in any airport: the young man vein of same private jet, direct to Bahia - and already return on this Sunday, 13, to the United States. Leonardo and Gisele stayed the four hidden days Nizan Guanaes home, in the beach of Itapororoca - paradisiacal in fact. Moon - of - total honey".
Thanks to Karala and Mona Lisa !
°°°
New photos of Leo & Gisele back in L.A. from May 2001 :
Check the Recent Photos - page 17 !
°°°
April 2001:
Gisele talks about her relationship with Leo in an Italian magazine
°°°
The Daily Telegraph (UK) - 04.03.01
Gisele in Milan
The Brazilian supermodel, Gisele Bundchen, who currently commands 5,000 Pound an hour as one of the highest-paid models in the world, made a catwalk comeback in Milan yesterday, five months after announcing that she had quit. ....
(She) ...was the surprise star of the Dolce and Gabbana show at the Milan Collections for this autumn and winter. ....
Bundchen, who moved from New York to Hollywood in December, showed off her new California beach style, sporting a golden tan and blonde "surfer" streaks in her long coffee-coloured hair.
She was also wearing the large platinum and diamond ring on her left hand which has led to rumours that she is engaged to the film star Leonardo DiCaprio, who has been a regular companion recently. She denied this, saying: "I'm only 20. I'm far too young to get married." The ring was "a present to myself"; she had bought identical ones for her five sisters, including her identical twin.
......... Since then she has bought a house in Beverly Hills with a heated swimming pool and five acres of land which will soon become home to her latest purchase, a black Brazilian stallion called Dark Winter.
Of her new home, she said: "I look out over all of Hollywood. I feel so free, so happy, so full of life and energy." However, she says that she has no plans to go into movies - or to rejoin the modelling circuit. "I only came back to the catwalk for this one day because I love Stefano and Domenico [the Dolce and Gabbana designers]. They are like my fathers, my brothers, my family."
°°°
People magazine - March 2001
Leo DiCaprio and Gisele Bundchen say they´re not going to the chapel, despite what you read in the press
Blame it on an overeager press corps, an enigmatic diamond sparkler and the subtle nuances of the Portuguese language. But for the record, rumors that Leonardo DiCaprio, 26, is engages to Brazilian supermodel Gisele Bundchen, 20, are bunk. "She's not getting married," says Bundchen's exaperated agent, "not, not, not!" DiCaprio's rep also denied the rumors.
So why did so many sources - from the tawdrivest U.K tabloid to the usually gossip-resistant Washington Post - print news of the pairs' clandestine betrothral? Proposal rumblings began in October, when Bundchen appeared on the catwalks of Milan sporting a diamond ring after a visit from DiCaprio. (Her agent said at the time she bought it herself.) Next the couple and their respective parents reportedly spent New Year's together in Malibu in what seemed suspiciously like a meeting of future in-laws. But mere speculation exploded inot breaking news when, according to a translation in a British tab, Bundchen told the Brazilian magazine Veja that the actor "is my fiancé. I never went public with it before because I don't think it's anybody else's business." What she actually called DiCaprio was her "namorado", which, correctly translated, simply means "boyfriend."
Bundchen, who has been celebrating Carnaval in Rio de Janeiro with four of her sister (DiCaprio is in Rome filming Martin Scorsese's gangster epic Gangs of New York), seems clear on matters. "For sure, I am not getting married, she recently told reporters at a fashion event. "Not for now. I am only 20 years old, and I have a great deal of time ahead of me."
Thanks to Pax !
°°°
Now, after the new engagement rumour has run around the globe, we get the DEMENTI :
EtOnline News - February 26, 2001
LEO ENGAGED?
LEONARDO DiCAPRIO and model GISELE BUNDCHEN are not engaged as reported in a New York paper. The article cited a Brazilian magazine as their source, but a spokesperson for Bundchen calls the story preposterous. DiCaprio's reps said they do not comment on his personal life.
°°°
Chi - 23.02.01
Thanks to Mona Lisa !
°°°
Quotes by Gisele:
Gisele Bundchen in Veja magazine (Brazil) - February 2001
Okay then, he is my boyfriend. I didn't admit it before because I didn't want people getting into our business. He's wonderful, intelligent, knows everything and makes me laugh, the whole time. Sometimes he corrects my English, but in a cute way like "Baby it's not like that, it's like this."
-
Gisele Bundchen at the press conference for C&A fashion in Sao Paolo:
"For sure, I´m not getting married. Not for now. I am only 20 years old, and I have a great deal of time ahead of me."
(ananova com 19.02.01)
°°°
Muzi.com/Lateline News - 15.02.01
Supermodel Gisele May Take Leo to Rio
SAO PAULO, Brazil - Brazilian belle Gisele Bundchen is leaving everyone guessing about whether movie star Leonardo DiCaprio will be her beau when she steps out at her first Rio de Janeiro Carnival later this month, Reuters reported.
The curvy 20-year-old supermodel tempted reporters at an advertising launch by hinting she was dating the "Titanic" star but refused to say whether he was one of the two male "friends" she was taking to Rio along with her four sisters.
"I'm not going to talk about my private life," she said at the campaign launch for a clothing retail chain.
But Bundchen did assure her local crowd it was too early for her to marry anyone, including heartthrob DiCaprio.
"Not him, not anybody, because I'm too young," she said.
Thanks to Gabi !
°°°
Where is Leo?
NY Daily News - 24.01.01
Leo DiCaprio returns to Rome this week to continue shooting on "Gangs of New York." He and director Martin Scorsese, who's had DiCaprio over to his villa for cooking lessons, will pick up Rudolph Valentino awards on Saturday. (The Italian honor recognizes those who embody the charisma of the silent-movie god.) Leo and girlfriend Giselle Bundchen were just in London, where the "Titanic" star has been fighting the effects of pasta by swimming laps at their hotel. ...
°°°
The Star (UK) - January 19, 2001
Leo's hotel love-in
by Niki Waldegrave
LeonardoDiCaprio and gorgeous fiancee Gisele Bundchen jetted into London for a romantic break - but never left their hotel.
They flew in for four "blissful" days - all spent behind closed doors.
Leo and Brazilian model Gisele, who got engaged in October, were whisked off to the exclusive £2,400-a-night suite at the plush Berkeley Hotel as soon as they landed.
The 5-star hotel, which boasts a roof top swimming pool, is popular among big Hollywood celebs.
A source revealed: "On the odd occasion they did leave the room they were very polite - but it was obvious they only had eyes for each other. They are so young and seem blissfully in love."
The lovers did find time to down champagne in the hotel's exclusive Blue Bar and shared romantic meals in a private dining room.
Thanks to Gabi !
°°°
peoplenews.com - January 18, 2001
Leo and Gisele make a flying visit to London
Titanic star evades the paparazzi
Leo DiCaprio and his supermodel girlfriend Gisele Bundchen spent the last four days holed up in the Berkeley Hotel making whoopee. They slipped into town on Saturday without being spotted - they are believed to have devised a clever way of evading the paparazzi - and booked into a £2,500 suite. They hardly left the hotel, spending most of the weekend frollicking in the hotel's sumptuous spa; in the evenings they larked around drinking champagne in the hotel's Blue Bar. 'They must have come to the Berkeley because its far more discreet than the Metropolitan Hotel,' says a source. The couple checked out today, also unnoticed.
This can only stoke up the engagement stories that have been flying around – the couple were first rumoured to have become engaged in October, and friends of the couple have hinted that there will be a summer wedding. The 20-year-old Brazilian is certainly having an effect on the Titanic star: reports from Rome, where he is currently making a film with Martin Scorcese, say that the director has hit Leo with a 'no booze or pasta' ban after he gained 28 pounds.
posted by Gabi