kentuckyconnect com - KNIGHT RIDER NEWS SERVICE - 1998
Leo grand
Teen girls don't really care, but he's a fine actor
By Lynn Carey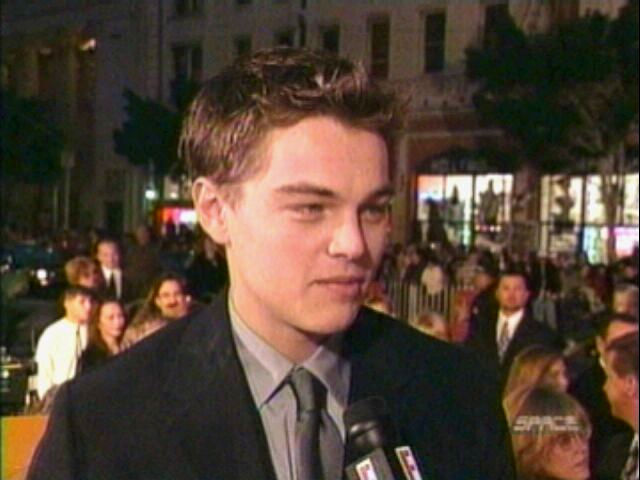 Leeeeeeeeeeooooooooooooooo!"
When you've reached the stage in your career where young girls are screaming your name and possibly swooning, you know you've made it.
Leonardo DiCaprio has made it. Not that we ever doubted him.
But the proof came when a pack of about 30 young French girls chased him at the Louvre a couple of months ago, attempting to rip off his shirt. (He escaped, but the entire time he was in Paris filming The Man in the Iron Mask, fans camped outside his apartment pleading with him to show himself.)
So what's next?
For Leo: $20 million paychecks. With Titanic proving his amazing box-office draw, Hollywood is slobbering all over the 23-year-old.
What is it about this young actor that has everyone going nuts? Those downloading his nude pix on the Internet would say he's sexy. Those who confine their ogling to the big screen would say he's a good actor.
If you've possibly been on a space station for the last few years, let us recap the stuff about Leo that makes everyone go berserk.
1. He's a darned fine actor, not just a pretty face. Critters 3 aside, his film career has been filled with good choices. What's Eating Gilbert Grape put him on the map, but The Basketball Diaries was the first film he carried. It was William Shakespeare's Romeo & Juliet that made him a sex symbol.
2. He's a guy you could bring home to meet your mom. (In fact, he lived with his mom until last fall.) He has lovely manners, we hear. Supposedly he doesn't do hard drugs and has said he never will. He'd rather hang with his guy friends, though he's been linked with several models. By the way, Leo's idea of a romantic date -- according to a bio book written by Grace Catalano -- is a long walk on the beach.
3. He's a great mimic, as everyone who's ever worked with him quickly discovers. He also loves a practical joke. And his friends say he's a tightwad.
4. He's been asked over and over to portray James Dean in a bio-pic. It'll never happen. And why should it?
Leo is the heartthrob of the teeny-boppers, in the way Brad Pitt was of the next age group, and Tom Cruise of the group older than that.
But, as sociologist Bernard Beck of Northwestern University says, "There's no job security in the matinee idol business. As people move from one category to another in the life cycle, there's a constant danger that you'll fall off."
Not because of the change that comes with age, he adds, but you have to constantly watch out for overexposure while at the same time continuing with appearances.
"And as his audience matures, will he mature with them?" Beck asks. "It all depends on how he ages, what kinds of stories appear on him in the press and the kinds of movies and things he chooses to do."
Case in point: Kevin Costner, the heartthrob of middle-age women until a few real bombs, such as Waterworld and The Postman. (Plea to Kev: Go back to the ball field!) Now we're switching our affections back to Mel Gibson.
San Francisco film biographer David Thomson thinks Leo's best move now would be to do some stage work, "just to refine his technique and make him more versatile as an actor. But he's going to get offered all manner of outstanding scripts because he's got a proven box-office drawing power.
"I think in the next few years he needs to demonstrate that he can do major dramatic parts in contemporary settings, instead of period pieces."
The only film Leo's definitely signed up to do is the next Woody Allen film, in which he'll have a small part. (Brad Pitt has yet to be in an Allen film. The same for Kevin Costner.)
Leo's been rumored to be linked to several projects, as well. He might play a schizophrenic law student in Laws of Madness and/or a young physicist who allegedly leaked atomic secrets to the Soviet Union in Bombshell.
Meanwhile, starting this weekend, the lines at Titanic have probably dropped off as thousands of young girls abandon a 17th viewing to watch Leo's performance as King Louis XIV and his twin brother in The Man in the Iron Mask.
This new movie may be more difficult to take than Titanic. But does it matter? His core audience doesn't care what he's in or how good an actor he is.
For now -- and for the next few years at least -- those boyish good looks will keep the young girls seeing his films over and over again.
A film guide for Leo-phytes
Here's a look at DiCaprio's film career:
* Critters 3: Little Leo battles alien furballs that are equipped with porcupine quills and fangs.
* This Boy's Life: Ellen Barkin and Robert De Niro get star billing, but Leo deserves the spotlight as a boy horribly abused by his stepfather (De Niro).
* What's Eating Gilbert Grape? Leo snared an Oscar nomination for his amazing, tricky performance as Johnny Depp's mentally retarded brother in director Lasse Hallstrom's touching and rewarding film.
* The Quick and the Dead: Leo is a cocky gunslinger and Sharon Stone is as an ace markswoman out to avenge her hubby's murder by mowing down the baddies in a High Noon-style shooting contest.
* The Basketball Diaries: The movie's a disappointment, even though Leo's performance as writer/musician Jim Carroll is solid. Four friends in New York dabble in drugs, sex, basketball and despair.
* Total Eclipse: This true story about the volatile relationship between 19th-century poets Arthur Rimbaud (DiCaprio) and Paul Verlaine (David Thewlis) is for adult eyes only. DiCaprio and Thewlis are both excellent (and very nekkid) as the two acquaintances who become friends, then lovers.
* William Shakespeare's Romeo + Juliet: The first time Leo really started to flex his box-office muscle was with this visually and artistically bold version of Shakespeare's tragedy.
* Marvin's Room: Leo gets little screen time in this bittersweet family drama revolving around two warring sisters (Meryl Streep and Oscar-nominee Diane Keaton) who are forced to reconcile as their father's as well as Keaton's health deteriorates. Leo plays Streep's troubled son.
Thanks to Gabi !
*