Gisele on Leo
Brazilian Playboy - August 14, 2000
Thanks to Pax and Fabio !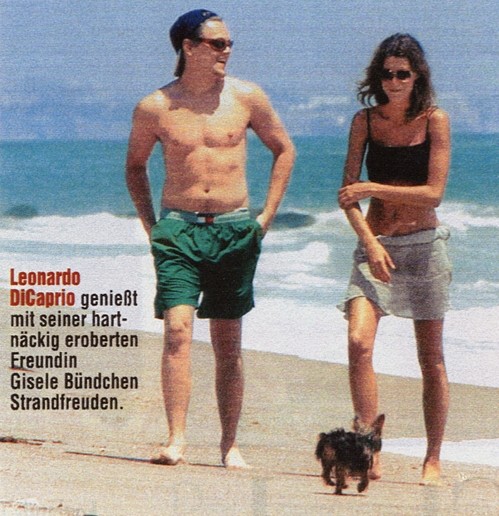 Gisele gave an interview for Morumbi Fashion in late June/early July, when she was in Sao Paolo, Brazil. This is the part in which she talks about Leonardo:
- Hey, And the story with Leonardo DiCaprio?
- It is as follows: he is my friend, is charming, is nice, is a super fine person, is very intelligent. We are going out. We are getting to know each other. We cannot say yet that it is a courtship. I donīt know what People (magazine?) said.
- They said nothing. They had photographs of the two of you together in California, in the United States.
- (Stuttering) It was that... and I... (Pause) I was in Los Angeles working, doing a layout for American Bazaar (magazine). I was in Malibu because we were photographing there for two days: Then Leo called me: "Oh, you are here?.... blablablabla. Letīs go there, I have a house there also." I was at the same beach, shooting in the house that once belonged to Demi Moore. Then he said: "Iīm at home, stop by." Then I walked down the beach and met him. That was it (Laughs)
- Didnīt he hit on you?
- You are trying... (Smiles) I am saying nothing more on that.
- They say he likes you very much, but you just want to be friends, is that right?
- I donīt know. I never heard that.
- I only ask you to give you the opportunity to clarify.
- I donīt know. (Big naughty smile) For the time being, I am happy this way.
- He has a potbelly, no?
- He has to gain 25 kilos (approx. 50+ pounds) for this new film (Gangs of New York). He is going to play the role of a tough gangster. This is something an actor does. You remember Robert De Niro, who gained 30 and a few kilos to make Raging Bull?
- What is the nicest thing about Leonardo DiCaprio?
- He understands what I go through (with the frenzy) because he goes through the same things, people speaking badly of him, wanting to knock him down, out of envy. People say lies that hurt sometimes. We talk a lot and he makes me feel better.
*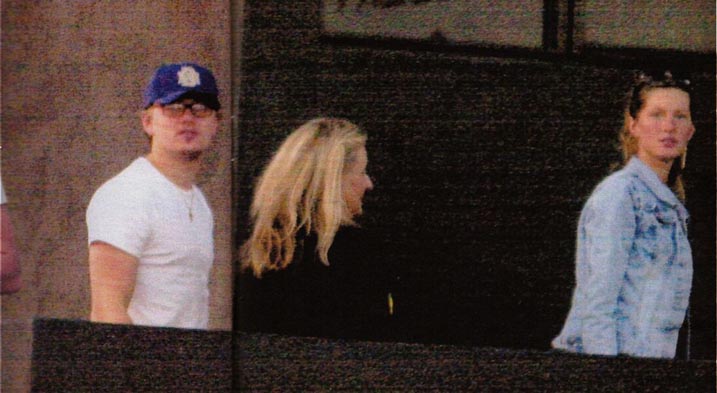 Leo, Irmelin and Gisele in L.A., June 2000
*