My Leomania
Basic Facts
Filmography
upcoming film: Gangs of New York (2001)
The Beach (2000)
Celebrity (1998)
The Man in the Iron Mask (1998)
Titanic (1997)
Marvin´s Room (1996)
Romeo & Juliet (1996)
Total Eclipse (1995)
The Quick and the Dead (1995)
The Basketball Diaries (1995)
What´s Eating Gilbert Grape? (1993)
This Boy´s Life (1993)
Critters III (1991)
TV Series: Growing Pains (1991-92), Parenthood (1990)
Unreleased films: The Footshooting Party (1994), Don´s Plum (1995)
*
Biography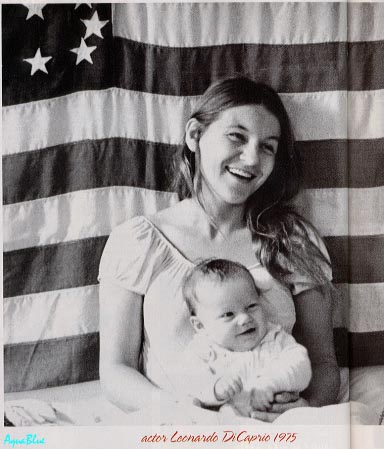 Mom, Dad, and Early Childhood
During a visit to a museum in Italy in the summer of 1974, while standing infront of a da Vinci painting, Irmelin DiCaprio felt the first kick of her pregnancy and thus, was the name Leonardo chosen. And, on November 11th, 1974, Leonardo Wilhelm DiCaprio was born in Hollywood, in the middle of what was then a somewhat rough and tumble artist community.
Before Leonardo´s first birthday, however, his father, George DiCaprio (a 60´s underground comic book author who hung out and worked with the likes of Hubert "Cubby" Selby jr., Charles Bukowski, Harvey Pekar, R. Crumb, Laurie Anderson, Dr. Timothy Leary and Sterling Morrison of Velvet Underground) and mother Irmelin - née: Indenbirken - (a German immigrant who was born in a bomb shelter during the allied invasion, grew up in the South Bronx and later served as a social worker in the very same neighborhood) seperated amicably but wouldn´t divorce for some two more decades, remaining close and continuing their roles as equal partners in the upbringing of their son.
And it was in that spirit that Leonardo came to be raised by both.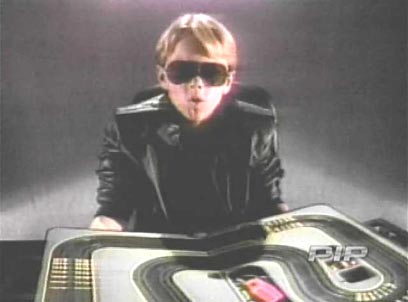 School, Commercials, TV
In a display of things to come that took even his father by surprise, George took the antsy toddler - then about 2 1/2 years old - to a try-out for the venerable children´s show, Romper Room. It was Leonardo´s favorite. "All I remember is this big soft furry Bee that Leonardo kind of went after", George recalls, laughing at the memory, "....and the poor camera man."
Leonardo was instincively drawn to the lens even at that tender age and, as alarmed producers and executives looked on in awe and a healthy degree of fear, this toe-headed little devil, enthusiasm unchecked, became a whirling dervish, spinnig around the stage. It was, by all accounts, something to behold. Leonardo was thanked for coming, and then fired for the first and last time in his career for what the network called "uncontrollable behavior".
Leonardo attended Seeds University Elementary School at UCLA - where he took summer courses in performance art - before moving on to the Center of Enriched Studies in Los Angeles. Not satisfied with the class experience, Leonardo´s need for an audience motivated him to find a place with the avantgarde performance group, The Mud People, where he soon became "the littlest Mud Person", performing all over Los Angeles and, at the Festival of Masks, Leonardo joined in conceiving and creating many of the masks on display.
After Seeds, Leonardo attended John Marshall High School on Los Feliz, where he acted in his first real play ("Circus Fantasy"). Leonardo´s restlessness and talent were growing at an exponential rate and by 1987 and, after six months of begging, at the relatively tender age of thirteen, Irmelin took him to his first commercial audition.
While it would be another couple of years before, he would land his first, full-time agent (at the age of thirteen), Leonardo was told at the time to change his name to Lenny Williams by a casting agent who apperently thought such things important. It was a lesson he would not soon forget.
By 1988 - his name intact - Leonardo began working in earnest, appearing in a series of commercials (his first ws for Matchbox Cars) and educational films like "Mickey´s Safety Club" and "How to Deal With a Parent Who Takes Drugs" (Perhaps you´ve seen them.)
Later that same year, Leonardo made his television acting debut in the syndicated Saturday morning revival of the classic late-50´s/early-60´s TV series, "Lassie" (no, he didn´t play Timmy).
Then, following a short leap to NBC´s daytime soap "Santa Barbara", (1990; in which he played a teenage alcoholic) - a performance that brought himto the attention of the rest of the network schedule - Leonardo was tapped for bit parts of primetime series like "The Outsiders" and became a series regular on "Parenthood" later that same year.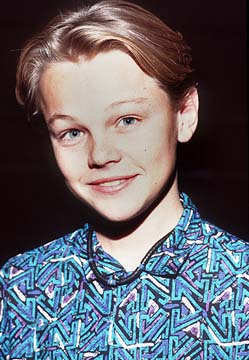 Critters III and Growing Pains
One year later, Leonardo was cast in his first feature film, "Critters III" (1991) and before the year was out, he was invited in 1992 - to join the cast of the hit ABC sitcom, "Growing Pains", (as Luke Brower, a troubled homeless by, taken in by the Seavers).
Although the show would be cancelled the following season, Leonardo enjoyed the experience and the exposure it afforded him. (By the way, Leonardo does a mean impersonation of "Growing Pains" stars Kirk Cameron and Alan Thicke - a mean impersonation of practically everyone he´s ever worked with, in fact.)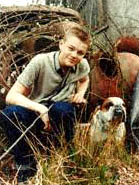 This Boy´s Life
Such was the impact of Leonardo´s work in "Growing Pains" that in 1993, after auditioning over four hundred other young actors, director Michael Caton-Jones cast Leonardo in the much sought-after role of Tobias Wolff in his big-screen adaption of Wolff´s best-selling novel "This Boy´s Life" (starring Robert De Niro and Ellen Barkin).
Given the subject matter (child abuse), the fact that this would be his first leading role and the ferocity of De Niro´s commitment, Leonardo was genuinely scared. "It was hard not to get frightened," he later reflected. "But I like it when (De Niro) scared me. It helped me react." It was an important role in a special film and from the moment he first appears on screen until the final credits roll, Leonardo´s performance is pure magic.
It was also a depressing, pitch-black, domestic drama - hardly the kind of film that packs them in at the cineplex. Nevertheless, the critics raved and Leonardo´s future film career was off and running... and, in what would prove to be a dead-on prediction of things to come, Caton-Jones said of Leonardo at the time, "He´s going to be what we in England call 'the thinking woman´s crumpet'. He´ll do intelligent material with depth and range, but he also has a lot of sex appeal - that´s what sets movie stars apart from every day actors."
What´s Eating Gilbert Grape?
Later in 1993, Swedish director Lasse Hallström met with Leonardo to discuss the role of Arnie, the severely mentally challenged boy so central to his screen version of Peter Hedges´ coming-of-age novel "What´s Eating Gilbert Grape?" (Johnny Depp and Juliette Lewis were already attached for the leading roles.)
Hallström was more than a little skeptical. Based only on a photograph and tapes of some of Leonardo´s earlier television work, Hallström initially thought Leonardo far too handsome for the quirky role of a boy, so mentally challenged he could barely dress, much less take care of himself, but after watching him read, looks suddenly no longer mattered to Hallström - Leonardo blew him away.
And when the film finally reached theaters, Leonardo´s performance blew everyone else who saw it as well. Critics fell all over themselves trying to explain how this young Leonardo DiCaprio so few of them had ever even heard before could possibly be capable of so nuanced and sensitive a portrayal of so complex and baffling a disorder.
To prepare for the role, Leonardo and Hallström traveled to a home for mentally disabled teenagers in Texas (where the film was shot). From that single visit, Leonardo innately understood all he needed in order to portray the deeply troubled boy on the script.
"People may have these expectaions", Leonardo said at the time, "that mentally retarded children are really crazy and 'out there'. But it´s refreshing to see them because everything´s always so new to them. Playing Arnie was so much fun because everything I did was so spontaneous."
Although hardly a box-office hit, the movie would go on to become something of a cult favorite and, once again, Leonardo ran away with the reviews and his performance was rewarded with an Academy Award nomination for Best Supporting Actor in 1994. Leonardo was nineteen years old.
While not without disappointments, Leonardo´s work was getting a lot of positive critical and industry attention and, by 1995, a year in which he´d appear in three more films in quick succession, expectations were high and the offers were becoming increasingly serious and plentiful.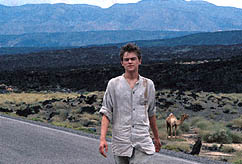 The Quick and the Dead, The Basketball Diaries, Total Eclipse
Leonardo tried his hand at that most pure American film-genres, the B-Western, opposite Sharon Stone and Gene Hackman in Sam Raimi´s deliriously stylish meditation on the Old West "The Quick and the Dead" (1995).
Returning to the fringers - pulled along by his absolute love of and devotion to the independent spirit that lives and works there - Leonardo next stared in the adaption of Jim Carroll´s gritty autobiographical memoir, "The Basketball Diaries", (1995, co-starring Mark Wahlberg, Bruno Kirby jr. and Sam Jackson) brilliantly portraying the horror and helplessness of the heroin addicted poet and basketball player.
And as if heroin addiction weren´t enough, Leonardo went on to portray the doomed and deeply troubled, pansexual French poet, Arthur Rimbaud in Agnieszka Holland´s film version of Christopher Hampton´s play "Total Eclipse" (1995, co-starring David Thewlis).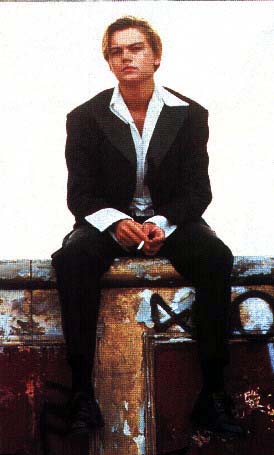 William Shakespeare´s Romeo and Juliet, Marvin´s Room
As one half of the star-struck lovers in Australian director Baz ("Strictly Ballroom") Luhrmann´s screen-adaption of William Shakespeare´s ultimate love story "Romeo and Juliet", (retitled "William Shakespeare´s Romeo and Juliet", (1996), Leonardo was paired with rising star Claire Danes in this strangely anachronistic, contemporary updating of the story, set in a neo-modern Verona Beach.
Lightning struck! The film was an unqualified success, Leonardo was suddenly being raved about publicly for the first time - behind the scenes the buzz on Leo had been going on for a couple of years - as the Next Big Thing and millions of kids who might not read a play they didn´t otherwise have to for a class or something (much less one by William Shakespeare) were snatching copies of "Romeo and Juliet" like it was a dating manual with an iron clad money-back-guarantee of success.
And, while Leonardo would never claim responsibility, the fact remains that here we are, three years later, and Shakespeare is still hot (Kenneth Brannagh´s "Henry V" and "Much Ado About Nothing", "Twelve Nights", Ian MacKellen´s "Richard III" and Al Pacino´s "Looking For Richard", the current hit film "Shakespeare in Love", starring Gwyneth Paltrow and the upcoming "A Midsummer´s Night Dream", starrring Calista Flockhart, Kevin Kline, Michelle Pfeiffer and Rupert Everett).
Leonardo was also featured that same year as Meryl Streep´s delinquent-to-the-pint-criminal son in "Marvin´s Room" (1996), another adaption of a play. Sandwiched between the brilliant performances of Streep and Diane Keaton (who won an Academy Award nomination for Best Actress), Leonardo was the lynch-pin for another (their second... and counting) happy collaboration with Robert De Niro, whose film company, TriBeca Films, produced.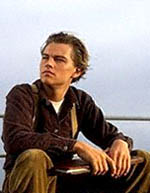 Titanic
Late 1996, early 1997...
Leonardo was approached to do yet another cinematic re-telling of the sinking of the Titanic. This time, however, at the helm would be director James Cameron ("Aliens", "Terminator I & II" and "The Abyss"), known to be a tireless and demanding director who would stop at nothing to get his vision on the screen. From the very beginning - before the beginning, in fact - it was a challenge.
Said Cameron after shooting commenced on "Titanic" (a film that went notoriously over schedule and budget): "I actually didn´t want Leo at first. He was recommended by the studios, as were other young, hot actors, but he just didn´t strike me as having the qualities I wanted for my Jack."
And then, lightning struck again. Cameron finally agreed to meet Leonardo and, as has been the case so often, he charmed the taskmaster with his sense of humor and dazzled him with his acting when finally he read for the role. "I loved him!" the reluctant director remembers, "The second I met him, I was completely convinced."
But Leonardo´s misgiving continued to nag. This wasn´t the kind of film he´d told himself he wanted to make and it wasn´t the kind of role he saw himself in - he had a difficult time reconciling the decision to sigh on. Ultimately, however, it was a combination of Cameron´s relentless passion and the story´s thematic elements that hooked him. That, and the chance to once again cofound those whose expectations he so enjoyed confounding.
"It was my first sort of commercial attempt," said Leonardo at the time, "and it made the most sense for me just because I´m not usually that type of guy and I´m not gonna continue to do that kind of movie, but it was the only (commercial script) that really had a good story and emotionally charged characters and wasn´t me playing some sort of Cyborg - it was something", he says, summing it all up, "I would have done wether it was commercial or not."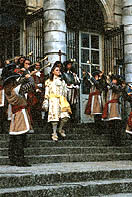 The Man in the Iron Mask
As for Leonardo, of course, he was on to the next thing - to France to work with Gérard Dépardieu, Gabriel Byrne, Jeremy Irons and John Malkovich on "The Man in the Iron Mask". "It´s so cool to be working with people of that caliber because they´re so relaxed about everything," Leonardo said on Good Morning America at the time of the film´s release.
It´s a testament to Leonardo´s growing box office clout that, after having owned the #1 position on the Industry´s all-important top-ten box-office list for the better part of the first half of 1998, the only film to challenge "Titanic" (on opening weekend it was a virtual tie with both films earning $17,4M) was "The Man in the Iron Mask".
Leo knocked himself out of the top spot.
After "Iron Mask" Leonardo made a promise to himself to slow down. It was time for a rest - a rest from filmmaking, anyway.
And then Leonardo did another film.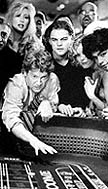 Celebrity
Although resolved to the rest, when legendary director Woody Allen calls, there isn´t an actor in Hollywood - certainly not those lucky few who´ve gotten the call - who wouldn´t come running. Such was the case when Woody called Leonardo.
Knowing next to nothing about the film (Woody only lets his actors see their dialog in just the scenes in which they appear) Leonardo, a big fan since "Annie Hall" happily and eagerly took the gig in Allen´s typically untitled "Fall Project" and soon found himself parodying his own meteoric success.
Although Leonardo is in "Celebrity" for less than fifteen minutes, once again ne brings all his focus, intensity and presence to the role and once again, he galvanized the entire film while he was on screen and dominates much of it when he isn´t. It´s an incredibly gutsy, full-out, no-holds-barred performance close to some of the stories we´ve all read and heard about other out-of-control superstars.
It was also about as far from Leonardo´s personality as you can possibly get and still be in the same ballpark. But it gave him the oppurtunity to poke fun at a phenomenon with which he is all too well acquainted. Leonardo has certainly seen his fair share of young actors - some of them friends - who lost their minds (and, in a few notable and tragic cases, their lives) when they traded their anonymity and humility in for a sudden shot of fame after a show or movie they´re in hits big.
Leonardo long ago realized that he´s just as susceptible and certainly as vulnerable as some of these people he´s watched spiral out of control. It is why he surrounds himself with friends and family and chooses who he works with and for with the utmost care and consideration.
Leonardo´s been the subject and appeared on the covers of countless tabloids, magazines and quickie, unauthorized (and wildly inaccurate) paperback biographies. There are entire shelves and tables groaning under the weight if books about Leo in stores like Brentano´s, Border´s and Barnes & Noble.
In addition to the deluge of traditionnal print and television coverage, Titanic´s success in the box office was mirrored on the web with thousands of fans making their own Leo websites.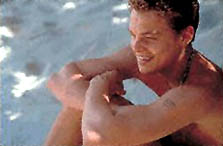 Next! - Working in Paradise - The Beach
In January, Leonardo traveled to Thailand to begin to work on Danny ("Trainspotting") Boyle´s screen adaption of the best-selling novel, "The Beach", by Alex Garland.
This biography was published in 1999 on Leonardo´s Official Website
***