J-17 Magazin - 1999 (?)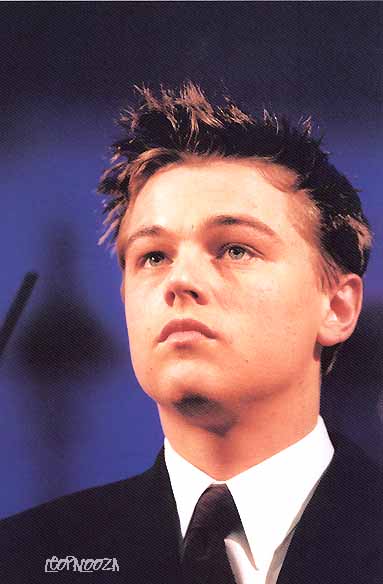 Last time we caught up with Leo, he was the brightest star in the heavens. Titanic had grossed more than any movie ever made and Leo had Hollywood at his feet. Everyone wanted him in their films or at their parties or on their walls. No wonder his asking price tag crept up to a cool million per film.
But the wierd thing is that as Titanic fever reached its heights with tons of us going again and again to see Leo play the doomed Jack, Leo himself slipped out of the public eye. Okay, there might have been frequent sightings of him in the gossip columns but it seemed as if he had given up making movies altogether. Since Titanic, apart from a bit part in hip director Woody Allen's Celebrity as an out of control rock star, there's been nada, nothing, zilch!
We knew he was shooting The Beach and thrilled to see the topless photos of our boy soaking up the sun in Thailand but that was all we knew for sure. What Leo has been up to for the past two years remains a bit of a mystery and why, after two years, there's still a tiny piece of our hearts that will remain forever Leo's is an even bigger mystery.
WHY DID HE DISAPPEAR??
So why did Leo head off into the Hollywood Hills? Fame can make people do funny things especially when you're 22 and the whole world is watching you. The kind of movie stars who enjoy Leo's status are wrinkly types like John Travolta and Mel Gibson who have the age, experience and families to keep their feet on the ground but Leo's still a young pup and young people can go a little crazy when the whole damn world has an unhealthy fascination with their private life. So it's understandable that Leo disappeared from the glare of the cameras to get on with the business of growing up. Okay, some of that time was taken up by his famous posse of young actor pals like Tobey Maguire and Lukas Haas but kicking back and raising hell go with the territory of being 22 and so what if Leo can get a little rowdy or makes bad judgement calls, quite frankly who hasn't? Leo also got on with the business of being a grown up. He bought a palatial house above LA's famous Sunset Strip (it used to belong to Madonna), worked on his love life and also made some serious career plans (more about that later) but mostly he got on with the business of being Leo.
WHAT'S HE BEEN UP TO?
On to that work-type stuff. You know about Celebrity and The Beach but as well as making flicks, Leo has been pulling out of them. First there was All The Pretty Horses, a tale of Mexican ranch life. In the end Matt Damon snagged the part. Rumour had it Leo's salary would have blown the movie's budget sky-high but Leo turned down the role of American Psycho's serial killer for reasons other than dosh. After various US High School shootings, Leo distances himself from one of his earlier movies - The Basketball Diaries - the families of three pupils shot dead in 1997 in a Kentucky school sued the makers of the film for $100 million. Leo told The Mirror newspaper that he would 'never star in another violet movie." A source close to Leo said people were offering him 'absurd sums of money to star in a Bruce Willis type production where he would fire lots of guns and kill people but he thinks this is starting to sound like blood money.'
FAITH, HOPE AND CHARITY
When he wasn't reading film scripts Leo also found time to dig deep into his pockets. He was happy to donate $35,000 to the Los Angeles Library so they could build a computer centre in Los Feliz, Leo's old neighbourhood.
Leo's also pretty generous with his time. He's supported everything from the Make-A-Wish Foundation to Leofest, an online short film festival he's founded to encourage young film-makers. Check out its website - www.leofest.com and along with his mate Winona Ryder, Leo narrated Survivors - Testimonies of the Holocaust, an interactive CD Rom directed by Steven Spielberg to teach young people about cultural tolerance.
WHY WE STILL LOVE HIM
Since Leo's been gone there have been plenty of other foxy film boys like Ryan Phillipe, Josh Hartnett and, grrrr Mr Pacey. Celeb experts reckon that Leo's been away too long and our fickle, foolish hearts have no room for him any more. As if! They seem to forget the reasons that made Leo so special.
Leo's one of those guys that you can't decide if you want to be matey with or mushy with. Yup, he's got tousled blonde hair made for rumpling, dreamy eyes exactly the same colour as faded blue denim and a lanky frame all the better to wear his beloved baggy skatewear but there's always been more to Leo than just eye candy. For instance, he does the same celeb thing that we would do if we were drop dead famous, like getting front row tickets to watch the space shuttle take off or booking entire floors of achingly swank hotels, or going on a trolley dash in Toys 'R' Us so he can load up on Star Wars collectibles. We love, admire and, let's be honest, envy Leo's wild living, hotel-trashing, party loving side, much in evidence in the recent photos of him staggering about at Eternal's album launch party.
LAYDEEZ MAN
And then there's the other Leo, the Leo who could have had practically any girl he wanted but pined for his first love, model Kristen Zang. Remember how she left him just before Titanic set sail because she reckoned Leo needed to do some serious growing up. Now she's back in his arms. When she visited him on the set of The Beach according to her stepfather 'he rented an island for her. They are really committed to each other'. However Kristen's rumoured to disapprove of Leo's rowdy mates and reportedly walked out of his 24th birthday party last November. Leo seems to respect the fact that his girlfriend is no pushover, proving himself to be both dangerously exciting and into commitment. How could you still not love him?
RAW TALENT
And let's not forget the reason we liked Leo in the first place, he's a mighty fine thespian. Whether he's playing a romantic lead in Romeo & Juliet or a retarded teenager in What's Eating Gilbert Grape?, Leo makes his characters real and so it's in his movies that he moves us the most. His performance in The Beach has gone down extremely well with US test audiences but according to an American mag Leo is still amazingly unspoiled by fame. "He swam in jellyfish infested waters for hours", the writer reported "and while filming a canoe scene his boat capsized forcing Leo and others into shark infested waters, where DiCaprio helped some of his film mates to safety."
THE DOWNSIDE OF FAME
On a similar scary note, Leo got involved in a few lawsuits too. One of Leo's old acquaintances Daniel Stutman, made a black and white film called Don's Plum starring Leo and Tobey Maguire. Apparently Leo thought it was an experimental film that would never be released. Stutman thought otherwise. The whole affair was settled out of court and the film will never see the inside of a US cinema.
Then environmental activists sued 20th Century Fox, makes of The Beach, for allegedly spoiling Phi Phi Island's Maya Bay but Leo himself is uninvolved and besides, this is the same guy who recently donated £16,000 to The Dian Fossey Gorilla Fund which looks after endangered gorillas. As Leo himself told the London Evening Standard "I'd never be a part of any project that did anything to harm nature."
WHAT'S UP NEXT?
Being a full time Leo watcher is very exciting right now. Never before has such a young actor been so powerful. Leo's star completely eclipses even such huge youngish talents as Tom Cruise or Brad Pitt, so it will be interesting to see what he does next. At the moment he seems happy to follow in the footsteps of his Titanic co-star Kate Winslett, by turning down big - budget Hollywood movies in favour of more challenging roles. It looks like his next project will be Gangs of New York, a gangster movie. He won't be signing up for the part of Anakin Skywalker in the next Star Wars or starring in the Mafia flick Godfather IV as reported but whatever he does, whether it's marriage, more movies or mucking about, it looks like we'll be loving Leo for quite some time.
*****